A Timber Automation Division
Forest Product Industry Consultant Beginnings
Success doesn't happen by accident. Before becoming a Timber Automation division, Hi-Tech Engineering, Inc., was started in 1988 by the late John Fletcher and LC Gaither. They were joined in 1989 by Chris Raybon, Pat Conry and Russell Kennedy. What began as a consulting firm to the forest products industry soon blossomed into one of the most successful OEM's of computerized sawmill machinery in the southeastern United States. The story behind their success began with their first successful laser trimmer optimizer in 1991. The rest, as they say, is history.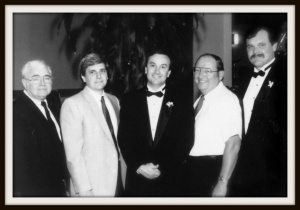 HI-TECH FOUNDING PARTNERS – 1990
From Left to Right: LC Gaither, Pat Conry, Chris Raybon, John Fletcher, and Russell Kennedy
Raybon, Kennedy and Conry operated the company until selling their majority interest to Comact, Inc., in January of 2000.  A year after the sale, Kennedy left to pursue other interests while Raybon and Conry stayed on as part of the Hi-Tech Comact management team.
Early in 2004, when Comact made the decision to shut down the Baxley, Georgia plant, Chris Raybon and Pat Conry stepped up to form Baxley Equipment Company to keep the plant open.  With the approval of Comact, Baxley built miscellaneous equipment for OSB plants as well as some over-flow sawmill equipment for Hi-Tech Comact.  Russell Kennedy re-joined the team in October of 2004.
A group was put together early in 2005 to purchase the assets of Hi-Tech Electronics. The group includes thirteen shareholder employees and key members of the Hi-Tech team; Paul Caple, Ronnie Clem, Lamar Currington, Patrick Flemming, John Oliver, Joey Rogers, Donna Smith, Jada Smith, Philip Stevens, Ronnie Stewart, Darrell Taylor, Chris Taylor and Andy Trantham. One year later, this group purchased the remaining assets of Hi-Tech. Portions of the remaining assets of Comact, Inc., were sold to the management group at Comact which became Comact Equipment, Inc., and Comact US, Inc.
In February of 2008, Baxley partnered up with long-time industry veterans Jim Krauss and Josh Krauss to purchase Price-Systems located in Malvern, AR.  The new company, Price LogPro, LLC, manufactures machinery for sawmill logyards, engineered wood products plants, pulp and paper plants, chip mills, pellet mills and biomass energy plants.
According to Kennedy, "The employee ownership of Baxley Equipment makes us unique as an O.E.M. in the forest products equipment business. We have found that this ownership interest gives the customer a big advantage and has stepped up the level of service that we were able to provide in the past."  These strategic purchases have positioned Baxley Equipment to provide their customers with the products they need and the service they deserve. Most importantly, it has benefited Hi-Tech customers with continued equipment service and sales support.
In 2015, the Baxley-LogPro management team looked at opportunities to solidify long-term stability and growth for their employees, customers and clients. After months of research, they teamed up with Blue Sage capital to build their group into a stronger and more formidable leader in the industry. The influx of growth capital ensured continued product development while allowing Baxley-LogPro to increase production capacities through the addition of automated manufacturing equipment and outside acquisitions.
The Formation of Timber Automation
Now in 2017, they have announced the formation of Timber Automation, LLC, and the Timber Automation divisions of Baxley Equipment, LogPro and Timber Automation Construction. The divisions of Timber Automation have been forestry product leaders since 1965, with over 80% of customers buying their products again and again. Now, the same engineering leaders who continue manufacturing the Industry Standard in cranes, edger systems and sawmill equipment, bring even more to clients with a full integration solution woodyard and sawmill construction, redesign, upgrade and optimization needs.
Maintaining strong divisions, Timber Automation continues to deliver the best woodyard and sawmill equipment, while adding a team of forestry product experts focused on consulting, planning, engineering, and producing. Together the divisions are committed to providing the same excellence in quality, value, innovation and service.
Timber Automation now employs over 200 people from their 145,000 sq ft office and fabrication facility located on 13.9 acres in Hot Springs, Arkansas, and their 45,000 sq ft fabrication facility in Baxley, GA.
Their reputation is built on innovation and integrity, while providing clients with innovative equipment and excellent service.
Meet Our Current Teams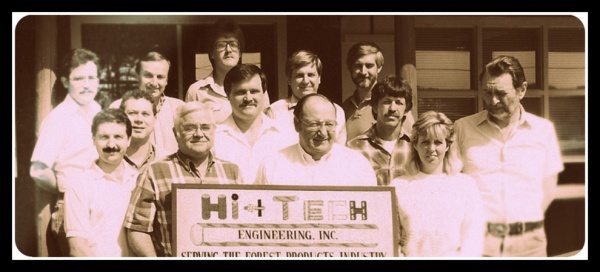 HI-TECH's FIRST TEAM – 1990 From Left to Right: Giovanni LiMandri, BJ Bridges, Mike Bearden, Chris Raybon, LC Gaither, Jeff Nobles, Russell Kennedy, Pat Conry, John Fletcher, John Fletcher, John Oliver, Terry Smith, Nancy Millard, and Ken Geubert.